InnovaCommerce ERP, Management software for businesses with online shops, physical shops or warehouses, all integrated into one application.
Get to know in depth the management software that will help you save various work hours weekly. We detail what you can do in your business to manage all of your dealings and warehouses in a simple manner saving time and costs.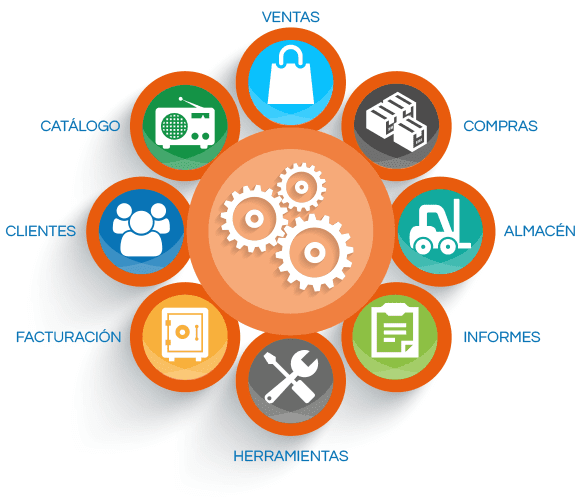 Main InnovaCommerce ERP features
InnovaCommece ERP is a solution that includes a great amount of highly useful features to manage warehouses, physical shops and online PrestaShop shops. Also thanks to the integration with other tools from the InnovaCommerce line, you will find other aditional features, also thanks to integration with some premium PrestaShop modules.
Clients
Complete client management
From the ERP you can access all of your client information from your PrestaShop shop, on top of creating new clients or editing existing ones. Includes a summary of the client from which you can create a new address in a direct manner, view completed orders and repeat qny of them manually, as well as viewing other useful information for daily work. Client summary optimized for when telephone orders are made by loyal clients.
Client credit management
You can assign credit to your clients with the POS o via telephone. If you have negotiated special financing conditions, from this section you can mark up to how much quantity they can purchase in your physical shop without paying at the time of purchase, Even if you have accepted advanced payment o because you charge their bank after they recieve the product, tbhis is the option you should use to manage the operation.
Vendors and representitives
If your business works with sales representitives whom visit your clients to make their orders or if you have different vendors, with InnovaCommerce ERP you can manage them. You can create Vendors/Representitives for your shop who receive commission over all of the sales of clients asociated to their account, or from other asociated vendors. With various levels of vendors each with their respective commissions.
Loyalty points
Prestashop includes by default a loyalty points module. If InnovaCommerce detects that this module is activated and configured, each sale or order that is placed from the POS or ERP will represent this configuration and corresponding loyalty points will be generated for each client to which the the order/purchase is asigned.
Client address management
The ERP grants access to all available clients in your PrestaShop shop. It allows you to to create new addresses for clients in your shop, edit the existing ones and visualise said addresses on a map to quickly find the zone in which a client is located. Very useful if you wish to know which of your representatives corresponds to a client.
Client groups management
You can manage all of your client groups information available in your PrestaShop shop or create new client groups for you you physical business from InnovaCommerce ERP and you will have the posibility of editing the groups, create new groups and manage the status of existing ones. You may apply discounts by category as in PrestaShop.
Products
Product catalogue management
From the ERP you can manange the your online and physical shop product catalogue in and easy and quick manner, no matter if you use mulitple warehouses or multiple shop PrestaShop configuration. You can activate or deactivate products, add new products to your catalogue or modify existing products. create products with combinations in one step. Generate product combinations with our combination generator where you only have to choose the products attributes and values.
Generate product tags
You can generate product tags using the popular APLI templates. You only have to choose the template you wish to use, the product to tag and the number of tags you wish to create. You can print tickets while indicating the original product price and the reduced price. This is a useful manner to tag products either for use in physical shops with reduced prices or to have control over you online PrestaShop shop products. All this can be done with ease.
Product packs
From InnovaCommerce ERP you can manage easily product packs to make combined offers with various products of the same type or different types with a reduced price. If you have allready been using this feature in PrestaShop you know how it works, in InnovaCommerce it is used in the same manner allthough much more comfortably. Also these product packs will be available to sell on InnovaCommerce POS, where you can use them to sell as lots.
Category management
Manage product categories for you online and physical shop and configure them from your POS. Revise, edit and reassign existing categories or add new ones for any of your shops, even if you use multiple shops or warehouses.
Data sheet characteristics
If your products need data sheets in your PrestaShop shop, now you can manage the characteristics directly from the ERP. You can create groups of characteristics and values, later adding them to their corresponding products.
Attribute and value generation
And to complete product management, you can also create attributes an values for product combinations from the ERP. You may also manage existing attributes and values on top of creating them.
Warehouses
Warehouse management
From InnovaCommerece ERP you can create and manage warehouses for your merchandise. You may create new warehouses and manage the information of existing ones. Can be used to create virtual warehouses to work with an online or physical shop, or because you have your merchandise in different physical warehouses and need to have stock control for each warehouse. This function with the Picking function gives you full control over your merchandise.
Packaging transfers y pending packaging transfers
You may perform packaging transfers, maintain a control of all the packaging transfers that have been performed and modify the stock automatically when you perform a package transfer. You only have to choose the initial product, the final product and the quantities implicated and InnovaCommerce will do the rest. Very useful if you purchase products with a certain label but you later re-brand them with your own label and packaging. Feature compatible with InnovaCommerce PDA.
Warehouse Picking management
You can configure you warehouse by location from the ERP. You can create aisles, shelves and locations for each of your warehouses, identified by reference. You can indicate the locations of your products and and the stock in each location. The location reference, formed by the reference of warehouse + aisle + shelf + location will appear on the order delivery note so that the product can be located quickly in the warehouse.
Warehouse movements
From this section of the ERP allows you to control all the movements that have been made from the shop and the warehouses. You can quickly visualise merchandise movements between warehouses or shops, merchandise entries, decreasing stocks by inventory, and perform all types of movements.
Lots and product expiration
The ERP allows you to have a complete control over product lots and and their expiration. You may create annotations of your lots and expiration, and allows you to detect expired lots and ones close to expiration. soon this will be integrated with the PrestaShop module, to show the information on the web.
Stock status
The ERP permits you to check the stock of a certain product instantly. Filter stock by warehouse, product or quantity. Modify the quantity manually directly. Having a good control of your merchandise will save time and money, and from here you may have said control.
Purchases
Suppliers and manufacturers
You may instantly manage your suppliers and manufacturers and add new suppliers. This is essential information to thus have a control over stocks of your product catalogue. Information that could be used both for your physical shop and your PrestaShop online shop. .
Supplier order management
Complete management of merchandise orders to suppliers. From the ERP you can place orders of your products to suppliers with whom you work. You can receive the merchandise sent by your suppliers and add the stock directly to the recipient warehouse.
Order after sale
If you have received an order of a considerable quantity of products and you run out of stock, from the ERP you can directly place an order to your supplier from a sale. Very useful for orders of products not available in your warehouse and you have to purchase more stock to be able to serve your customers.
Place orders due to minimum stock
From the ERP you can configure alerts of minimum stock so that when you reach the set limit, you can place an order to your supplier. This way you will never be without stock of the merchandise that you sell. You will not have to be constantly watching your stock because InnovaCommece ERP does it for you.
Sales
Order management
You can review orders of online PrestaShop shop or shops if you use multi-shop, and of your physical shop. You can modify the status of multiple orders from any of your shop in one edit, generate delivery notes with a personalised template, create new orders or edit existing ones. You can rapidly review orders pending shipping from a specific ERP feature, you can generate shipping tags or manage rebate shipping. From a glance you can view all the order information, products and quantities, total breakdowns, invoicing information and client order information, messages attached to the order, etc... Also you can manage the payments of your orders, checking that all the payments have been received be them total or partial payments and add payments to orders. Manage is the order is paid via installments, outstanding payments, overdue payments and the due date of each payment. You will receive an alert with which payments are due each day so that you do not have to be constantly aware of this task, the system will do this for you and will alert you when you must intervene.
Orders with partial shipping
If you need to partially ship a product leaving pending a quantity to send when you have new stock, from InnovaCommerce ERP you can manage and consult which orders are in the state "Partially shipped", and generate a delivery note for packaged orders and a different one for orders to be packed. You will have complete control over products pending shipping and packaging.
Returns management
Manage merchandise returns from Innovacommerce. You can check orders that have been cancelled or returned, return merchandise and create returns vouchers of said products exchangeable in InnovaCommerce POS or from your online PrestaShop shop.
Orders pending shipping
The ERP permits you to consult which orders have not yet been shipped. Generate shipping tags for each of the orders, indicating the number of packages in the order and if the order is rebated. The system will keep you informed via alerts of orders pending shipping and will generate a new alert if there is any update on pending orders.
Estimate management
Create estimates from the ERP and send them directly to clients via e-mail. You can mark estimates as accepted and convert them into orders directly so that the client only has to make the payment and you send them an invoice marked as paid. An essential tool for any salesperson.
Orders pending packaging
You can request orders pending packaging from orders awaiting shipping, and can mark which have been packaged, to keep consistency of packaged units and pending packaging units. The system will keep you informed of orders that can be packaged with the available stock..
Billing
Billing lines
You can create different billing lines with different prefixes and numbering to perform billing for your business. You may use various billing lines if you have different physical shops or warehouses, or if you want to differentiate by activity if you have various dealings.
Sales billing management
From the ERP you can administer all of your invoices, and generate invoices for each of your billing lines created by your business or download the emitted invoices on your online PrestaShop shop. You can have one or various billing lines for you physical business and another for your online shop.
Lines and accounting entries
From InnovaCommerce ERP you have the option to manage all the accounting lines of your business. You can generate accounting entries for them and export them later in CSV files to be able to add them to accounting applications such as Contaplus or similar.
Utilitiy invoice management
So that you can have full control over your expenditures, we provide this section so that you can add all of your utility bills and their status. This allows you to see if they have been paid or if they are pending payment at the bank. Very useful for accountability.
Equivalence surcharge
From the ERP, you can manage clients that requiere equivalence surcharge so that you can generate the necessary billing with this concept. It is also integrated with a equivalence surcharge PrestaShop module to make the information exchange between ERP and PrestaShop compatible.
Models for the tax office
From the ERP you can access all the necessary information needed to carry out your tax office models. You will have a compilation of totales sold per trimester, anually, qhat you have billed each client, etc... You may obtain the neccessary information for the models 130, 347, 303, and 390.
Reports
Sales report
InnovaCommerce allows you to create a sales report to maintain control over which orders are higher in demand in your shop. You can filter your shops sales by client, status, ID or creation dateand even breakdown the products asociated to each sale.
Purchases report
InnovaCommerce allows you to create a report detailed by all the purchases made to suppliers, and filter between said purchases by date or status and also create a breakdown of the products included in each purchase to check which product you ordered the most units of.
Products report
With InnovaCommerce you can create detailed reports of your product catalogue, which you can then filter by category, reference, name, ID, supplier and creation date, this will allow for a complete breakdown of combinations. You could retrieve valuable information for your business.
Clients report
InnovaCommerce allows you to create a report with information regarding your local or online clients. You can then filter by client ID, group to which the client belongs, registered date or by client age, and create a breakdown of addresses or by orders made.
Inventory report
You may create detailed reports with your current stock situation of your business, with filtering possible on product category, reference, name, ID, creation date or warehouse with available stock, you will obtain a outlined report with stock value in both purchase price and public sale price.
Enquiy report - SOON
Create your own personalised report with SQL sentences on your database. Manage your queries in real time the results from these and if you agree with the results generate a PDF report. This feature will requiere advanced knowledge.
Configurations
Employees and access permissions
Control who can access your information and which information they can access is fundamental for a business. Create profiles with permissions and configure the level of access of each of thexzse profiles. Thjis confoiguration is only accesible from a superadministrator account. the employees of the online shop will not be able to acess the ERP untill the superadministrator gives permissions to do so.
Currency, taxes and rules
Add new currencies to your online shop, edit and configure the exchange rate between each currency. From the ERP you may edit the tax configuration and tax rules for your online shop and local business. Create new taxes, new tax rules groups or edit existing ones, and add new rules by zones to each.
Balance barcodes
InnovaCommerce ERP is compatible with the barcodes generated by heavy variable I.t. balance with links to products via PLU codes of the said balance. Allthough, it doesn't imply that they are directly connected with the balance, only that it reads it's barcodes to be able to add products to the ticket in the POS and control it from the ERP.
Carrier management
InnovaCommerce ERP allows you to configure all of the carriers which you are going to use to ship your online shop's orders, as if you were doing it directly from PrestaShop. you may configure with ease all of the tariffs for each shipping zone of each of your carriers.
Alert configuration
From this section you may control the time that passes between reminder alerts and control which sections of the program from which you desire to receive alerts. You have various alerts that can aid you in your managements, because they will help remind you about operations that could cause problems with your clients.
Zones, countries and provinces
You can control with ease the shipping zones for your orders, to which countries and provinces you sell. Modify and create shipping zones, add new countries with which you wish to work and which of it's provinces or states. You can also modify the default location configuration of your shop.
Tools
Client message management
You can also control from the ERP the PrestaShop client system. Administer all of the messages with your clients from one screen. You can answer received messages from your clients via the contact form. But you may also respond to messages from orders. You can see these messages quickly in the orders section. Don't miss a sale due to not answering your clients in time.
Templeate managing/editing
You can modify templates of all the documents generated by the ERP through a simple editor named WYSIWYG. You can use html and css for the personalization which will give you more control over the design of your invoices. delivery notes, reports, etc... Create new templates to personalise all these documents. You can load an image as a watermark to the documents to give a more corporative image.
Mass edits
From the ERP you can mass edit prices by category, on top of applying a price mask to avoid round prices, with this option mask your prices to 3.99 or 3.95, etc... You can also mass edit the basic information of your products: in a list which can be filtered by various fields, and information regarding the name, bar code, prices, and combinations can be edited.
Addons (additional payments)
InnovaCommerce POS
Integration with the point of sale for physical shop. Available on this website.
InnovaCommerce WMS
Integration with APP for warehouse work management. SOON AVAILABLE.
InnovaCommerce SALES
Integration with APP for sales through representitives whom visit clients. SOON AVAILABLE.
InnovaCommerce CRM
Integration with contact and client monitoring. SOON AVAILABLE.
InnovaCommerce SYNC
Integration with suppier catalogue synchronisation system. SOON AVAILABLE.
InnovaCommerce LOYALTY
Integration with client loyalty system with points and discounts. SOON AVAILABLE.
Ecological tracking
Integration with feature of PrestaShop online shop. SOON AVAILABLE.
Equivalence surcharge
Integration with feature of PrestaShop online shop.
Lotes de productos y caducidad
Integration with feature of PrestaShop online shop.
Información nutricional
Integration with feature of PrestaShop online shop.
Solicitud de presupuestos
Integration with feature of PrestaShop online shop.
Eliminación de impuestos B2B
Integration with feature of PrestaShop online shop.
The integration with PrestaShop online shop modules will continue to expand, to give InnovaCommerce full management capabilities. Features that are useful administrative tools for the ERP are included negating the need to open PrestaShop.